Try our Cooked Perfect Chicken Italian Meatballs (2840) on a skewer! They're fully cooked, so just Heat in a 350° oven and get creative!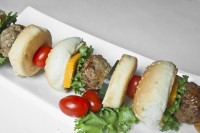 Mini Slider Kabob:
Just add your favourite burger toppings, like cherry tomatoes, onions or cucumbers and slider buns. Sprinkle with cheese if you like and broil to melt the cheese.
Try a Sweet n Sour Chicken Meatball Skewer:
Just add pineapple, red onions and sweet pepper chunks, heat together and top with a sweet and sour sauce, served over rice.
Or even a Caprese variation:
Alternate a hot Chicken Meatball with a cherry tomato, a thick slice of bocconcini, a fresh basil leaf and drizzle with a balsamic glaze.
Maybe a Greek-inspired Kabob is your fancy:
Use black olives, cucumber chunks, cherry tomatoes and red onions; then serve with a chilled tzaziki.
Do you have a favourite you could share? We'd love to hear it – and we'll send you a Chicken Sammy meets BOB prize too!