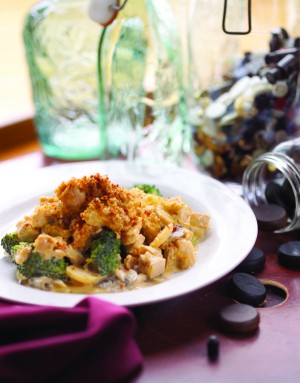 Ingredients:
12 cups ½" Cooked Diced Chicken (12454), thawed
2 10 oz cans cream of mushroom soup, undiluted
4 cups processed cheese spread
6 garlic cloves, chopped
5 onions, chopped
8 cups mushrooms, sliced
½ cup butter
16 cups broccoli florets
4 cups water chestnuts, sliced (optional)
Topping
1 cup butter, softened
4 cups bread crumbs
Directions:
1. Pre-heat oven to 350°F (175°C). Prepare hotel pan.
2. Sauté garlic, onions, and mushrooms in ½ cup butter.Spread over the bottom of the
pan.
3. Arrange broccoli, cooked diced chicken and water chestnuts in the pan.
4. Mix cream of mushroom soup, milk and cheese until smooth. Pour over all
ingredients.
5. Mix butter and bread crumbs until crumbly, and sprinkle over top of the casserole.
6. Bake for 35-45 mins or until bubbly and golden brown.
Serves 24.