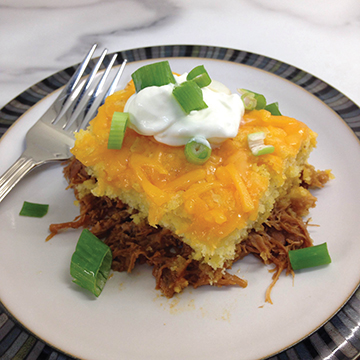 INGREDIENTS
Cornbread muffin mix
1 egg
2 tbsp sour cream
1.36 kg can Vanee Deluxe Pulled Pork (20418)
½ cup BBQ sauce
chili powder to taste
INSTRUCTIONS
1. Prepare Pulled Pork by pouring contents into hotel pan, including the broth. Pull the meat gently to distribute evenly in the pan.
2. Heat through, allowing the tips of the meat to become slightly crispy. Add the BBQ sauce and chili powder if desired.
3. In a separate bowl, combine the sour cream, egg and corn muffin mix until thoroughly blended. Pour on top of the pork mixture and cook 20-25 minutes at 300°F.
4. Garnish with green onions and cheddar, and serve with chilled sour cream and salsa.
VARIATION: Add the BBQ Pulled Pork mixture into corn muffin batter in muffin tins.