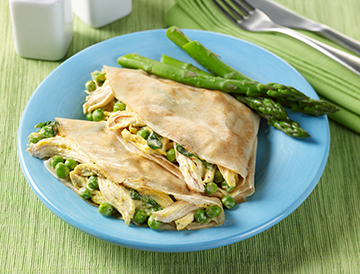 Ingredients:
3 cups Rosemount ½" Cooked Diced Chicken (code 12454), thawed
½ cup chicken broth, warmed
½ tsp saffron
2 TBSP butter
2 TBSP flour
1 ½ cups milk, warmed
1 tsp vegetable oil
4 cups spinach leaves (approximately)
1 small box frozen peas, thawed
¾ tsp salt
¼ tsp pepper
8 crepes or tortillas
Directions:
1. Combine warm chicken broth and saffron in a small bowl.  Set aside.
2. In a small saucepan, prepare sauce by melting butter, adding flour and cooking, stirring, for about 2 minutes.  Add hot milk, bring to a boil and then lower heat.  Stir until smooth and thick, about 2 minutes.  Cover and remove from heat.
3. Heat oil in a large sauté pan over medium high heat.  Add spinach and sauté until wilted, about two minutes.  Add broth, saffron and peas, raise heat to high and bring to a boil.  Boil for about 1 minute until slightly reduced.  Reduce heat.  Add sauce mixture and shredded chicken and bring to a simmer.  Simmer for 3-4 minutes.  Add salt and pepper, and stir until heated through and slightly thickened.
4. Warm tortillas individually in skillet over low heat.
5. Place one tortilla on each of four plates.  Spoon one eighth of chicken mixture in one quarter of the crepe.  Fold tortilla in half and then into quarters.  Repeat with remaining four tortillas and remaining chicken mixture.  Spoon any remaining sauce over top of tortillas and serve.
Courtesy National Chicken Council