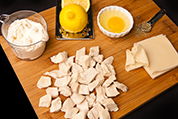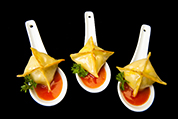 1 ½ cups Shredded Chicken (code 15801) or Cooked 1/2″ All White Diced (code 12000), thawed
¾ cup Whole milk ricotta
Zest of ½ lemon
½ tsp ground thyme
½ tsp salt
½ tsp black pepper
1 package Wonton wrappers
1 egg, lightly beaten
4 TBSP unsalted butter, melted
¼ cup Parmesan, grated
INSTRUCTIONS
Thaw approximately 12 oz of Cooked Chicken (1½ cups chicken).
In a medium sized bowl, combine the following: Chicken, ricotta, lemon zest, thyme, salt and black pepper. Mix to blend.
Lay out wontons on a clean surface (6 at a time). Brush edges with egg wash.
Place approximately 1 TBSP on the filling in the centre of each wrapper.
Fold the corners to the centre, pinch to seal.
Bake at 350°F until lightly brown, approximately 8-10 minutes.
Serve warm with melted butter and Parmesan, or with Marinara sauce.