*Have you tried our New COOKED DICED TURKEY in this favourite??!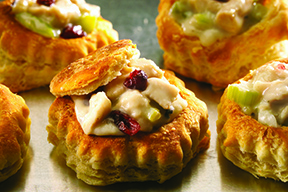 ¼ cup butter
2 onions, chopped
4 celery stalks, chopped (about 4 cups)
1/3 cup flour
2 cups chicken broth
2 cups milk
4 cups ½" Cooked Diced Chicken – code 12454, thawed
½ cup dried cranberries
1 tsp dried sage
1 tbsp parsley, freshly chopped
1. In a large saucepan, melt butter over medium heat and cook onions and celery until softened, 3-4 mins.
2. Stir in flour and cook for 2 mins, stirring.
3. Remove from heat. Gradually whisk in Chicken Broth until smooth.
4. Return to medium heat. Whisk in milk and cook until thickened, stirring constantly, about 3-4 mins.
5. Stir in Cooked Diced Chicken, cranberries, sage and parsley. Season with salt and pepper.
SERVE AS…
– an appetizer:  Pour into baked mini vol-au-vents
– an appetizer: Keep warm and dip with tortilla scoops
– a side dish: Pour over baked potatoes
– a warm lunch: Serve with fresh-baked Biscuits