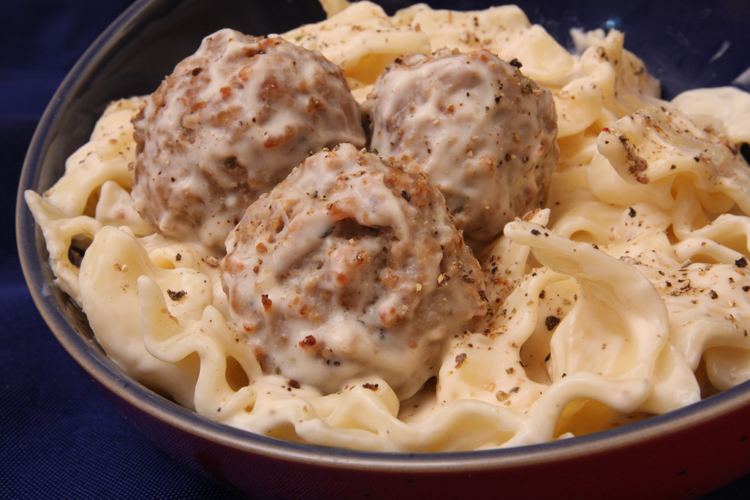 13 oz broad egg noodles, cooked
6 garlic cloves, chopped
6 onions, chopped
10 cups mushrooms, chopped
½ cup butter
4 cups chicken broth
1 5.5 oz can tomato paste
¾ cup Dijon mustard
3 tsp Worcestershire sauce
3 tsp sugar – optional
salt and pepper to taste
4 lb Cooked Perfect ½ oz Turkey Meatballs – code 6136
1½ cups sour cream
3 tbsp flour
1. Preheat oven to 350°F (175°C). Prepare one large hotel pan with Pansaver
2. In a separate pan: Sauté garlic, onions, mushrooms in ½ cup butter.
3. Add broth, tomato paste, mustard, Worcestershire sauce, sugar, salt and pepper. Simmer for 5 mins.
4. Add heated Turkey meatballs and sour cream. Stir and simmer 3-5 mins.
5. Mix flour with a little bit of water to thicken sauce.
6. Place cooked egg noodles in bottom of hotel pan. Pour Stroganoff mixture overtop and bake for about 15 mins., or until bubbly and hot.
serves 24.
Variation: You can easily use our Chicken Meatballs or Beef Meatballs in this soup, too!