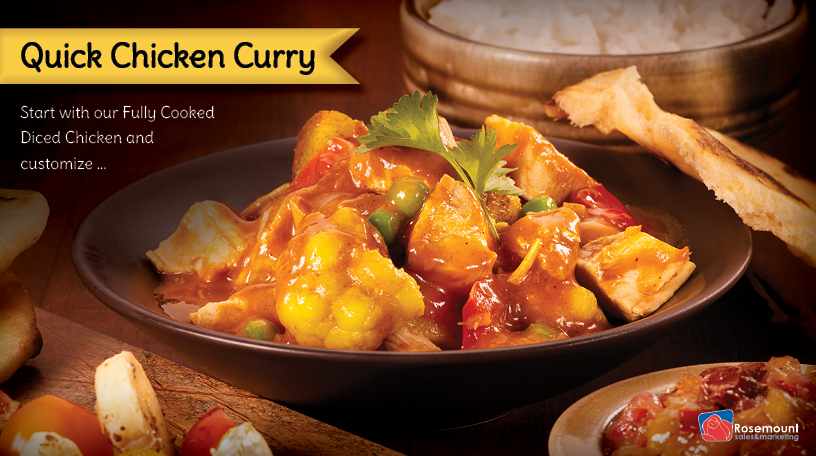 Ingredients
2-3 cups Rosemount 3/4″ All White Cooked Diced Chicken – code 34000
2 tbsp butter
small onion, sliced
1 cup cauliflower florets, cooked tender-crisp
1/2 cup sweet red pepper, chopped
1/2 tsp chili flakes
1 tsp ground coriander
1 tsp cumin
2 tsp paprika
3 tsp garam masala
3 cloves garlic, finely chopped
1-2 tsp ground ginger (to taste)
1 tbsp puréed tomatoes
3/4 cup plain yogurt
2 tbsp lime juice
rice / naan
Directions:
1. Sauté onion in butter in a large frying pan, close the lid and cook on very low heat for approx. 15 mins.
2. Add chilli flakes, spices garlic and ginger and stir together before adding the Cooked Diced Chicken, cauliflower, tomatoes and yogurt. Add hot water if the mixture seems thicker than you'd like. Heat all together for about 10 minutes.
3. Add lime juice and coriander just before serving with steamed rice or pan-fried Naans.