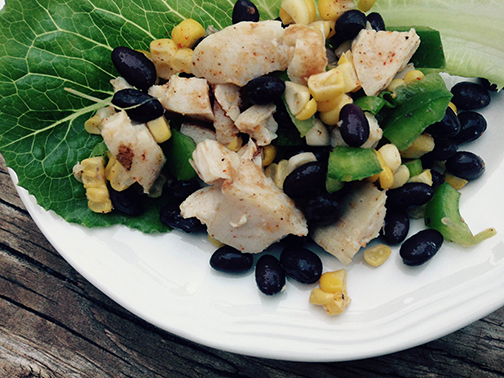 Ingredients                                                                                                                     3 Cups Rosemount ½" All White Diced Chicken – code 12000
2½ cups black beans, rinsed, drained
3 cobs of corn, grilled (or steamed to tender-crisp), then cut off the cob
1 medium green pepper, diced
½ cup green onions, chopped
3 tablespoons lime juice
½ tsp. chili powder or ¼ tsp. cumin
sea salt, & black pepper to taste
2 tbsp. olive oil
chopped fresh cilantro as garnish
1. Thaw Cooked Diced Chicken, combine with chili powder, let sit at room temperature while preparing the rest of the salad.
2. Grill or steam the cobs of corn, then slice the kernels off the cobs, adding to the chicken mixture.
3.Chop onions and pepper, and add to mixture.
4. Combine olive oil, salt and pepper and lime juice, add to mixture with cilantro if desired. Refrigerate until ready to serve.
5. Serve on romaine leaf, with tortilla chips and sour cream on the side.
Serves 4-6 as a salad, more if serving as an appetizer 'salsa'.