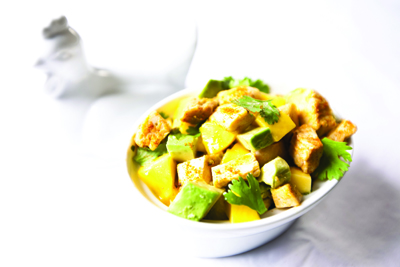 Ingredients                                                                                                                     2 Cups Rosemount ½" Cooked Diced Chicken – code 12454
2 Cups diced frozen & thawed avocado
1 Cup diced fresh ripe avocado
2 Cups fresh or frozen diced mango
1-3 finely minced hot chili peppers (seeds removed-moderate to your taste)
1 Cup of chopped fresh cilantro
¼ cup fresh lime juice and zest from one lime finely minced
Chicken spice mixture (see contents)
½ tsp. paprika
½ tsp. garlic powder
½ tsp. onion powder
¼ tsp. salt, & black pepper
¼ tsp. crushed dried thyme
1/8 tsp. cayenne pepper
1. Begin preparation by seasoning the chicken pieces with the spice mixture up to a day in advance.
2. Gently fold the frozen avocado, minced chili pepper(s), lime juice and zest in the chicken.
3. After thoroughly mixed add the mango and fold one more time.
4. Just before serving add the fresh avocado and cilantro and toss delicately.