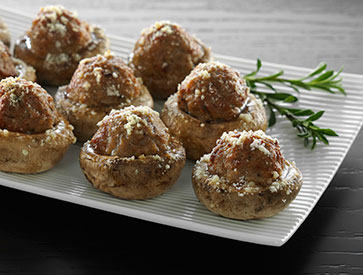 Meatball-Stuffed Mushrooms!
A great new appetizer from Cooked Perfect.com
18  ½ oz Cooked Perfect Chicken Italian Meatballs (code 2840), sliced in half
1 cup Vanee Roasted Turkey Gravy (code 50520)
36 Large white button mushrooms
1 cup Parmesan cheese, grated
fresh thyme as desired garnish
Directions:
1. Preheat oven to 350°F. Blanch the mushrooms in boiling water for 3 minutes,
drain,then set aside.
2. Simmer the meatballs and brown the gravy in a pan for 5 mins.
3. Remove stems from mushrooms and place on a cookie sheet.
4. Place ½ meatball in each mushroom cap, sprinkle with grated cheese and bake
for 8 mins. Let stand for 5 mins before serving. Garnish with fresh thyme if desired.
VARIATION: Use our Cooked Perfect ½ oz All Beef Italian Meatballs (code 6110), and Vanee Roasted Beef Gravy (code 20500)!