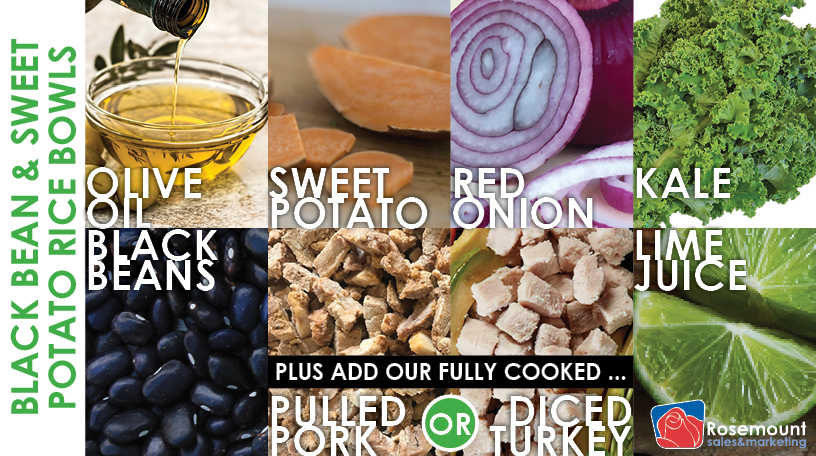 Ingredients:
¾ cup uncooked rice
¼ tsp garlic powder
1½ cups water
3 TBSP olive oil
2 cups sweet potato, peeled, diced (approximately 1 large)
¾ – 1 cup red onion, finely diced
15 oz black beans, rinsed and drained
2 TBSP your favourite sweet chili sauce
2 cups fully cooked Seasoned IQF Pulled Pork (code 5450), thawed
OR fully cooked all white 1/2″ diced turkey (21305)
lime wedges, optional
Directions:
1. Bring rice, garlic powder and water to a boil in a large pot. Reduce heat and simmer, covered, until the water is absorbed an rice is tender, approx. 15-20 mins. Removed from heat and let stand 5 minutes.
2. Meanwhile, heat 2 tablespoons of the olive oil in a large pan; sauté sweet potato 8 minutes. Add onion and cook, stirring until tender, 3-5 mins.
3. Add in kale, and cook until tender, 3-5 minutes. Stir in beans and either Pulled Pork or Diced Turkey, heat through.
4. Stir 2 sweet chili sauce into rice along with remaining olive oil. Combine with potato, onion, beans and meat and serve with lime wedges and additional chili sauce if desired.