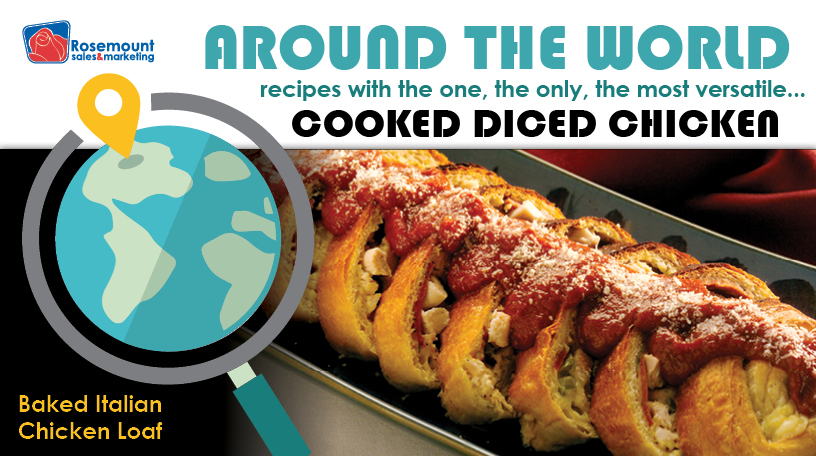 1 frozen bread dough ball, thawed
2 cups Cooked Diced Chicken (code 12454), thawed
2 eggs, separated
1 tbsp grated Parmesan cheese
1 tbsp oil
1 tsp fresh parsley, minced
½ tsp Italian seasoning
½ tsp garlic powder
¼ tsp pepper
8 oz sliced pepperoni
2 cups shredded mozzarella cheese
1 cup fresh mushrooms, sliced
¼ medium green pepper, diced
1 can (15 oz) pizza sauce
Instructions:
On a greased baking sheet, roll out dough into a 15 in x 10 in. rectangle.
In a bowl, combine the egg yolks, Parmesan, oil, parsley, Italian seasoning,
garlic powder and pepper. Brush over dough.
Sprinkle with Cooked Diced Chicken, pepperoni, mozzarella, mushrooms,
and green peppers.
Roll up (jelly roll style), starting with long side. Pinch seam to seal and
place seam side down on baking sheet. Brush with egg whites. Do not let rise.
Bake at 350°F (176°C) for 35 – 40 minutes or until golden brown.
Warm up the pizza sauce and serve with sliced loaf.
Makes 10 – 12 servings.