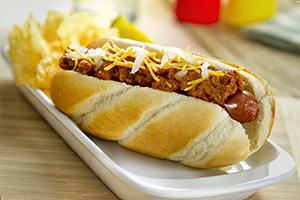 Ingredients:
1 can Vanee Chili with Beans (code 20301)
Sausages or hotdogs
buns
chopped onions
cheddar
toppings*
Directions:
1. Heat Chili with Beans. 
2. Cook or barbecue sausages or hotdogs.
3. Add sausages or hotdogs to buns and top with hot chili
plus….*SO Many great toppings to add!

TRY THIS: CHILI DOG BAR
for the cold, tired and hungry, whether you bonfire-cook your sausages or cook them all at once, this is the best for those cold outdoor lunches after a hockey game or tobogganing! Add your chili then top with ALL THE FIXINS!
Vanee Caramelized Onions (code 50552), Cheddar, Olives, Jalapenos, French Fried Onions, Bacon bits, Corn Chips, Cabbage Salad, Dill Pickles, Fried Tortilla Strips, Corn-tomato-avocado Salsa, Sour Cream, Green Onions … What did I miss?