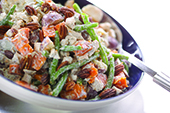 Ingredients:
 3 cups ½" Cooked Diced Chicken (code 12454)
2 cups small red potatoes, cooked, cubed
2 cups sweet potato, cooked, peeled and cubed (1 large)
1 lb fresh green beans, trimmed, cooked, drained
½ cup mayonnaise
½ cup nonfat plain yogurt
2 tbsp. milk
2 tsp dill weed
½ tsp salt
1/8 tsp pepper
¾ cup toasted pecans (optional)
Directions:
1. In large bowl, combine chicken, potatoes and green beans. In small bowl, combine mayonnaise, yogurt, milk, dill weed, salt and pepper.
2. Pour mayonnaise mixture over chicken mixture; stir gently to coat evenly. Garnish with pecans if desired. Chill.
Serves 6.