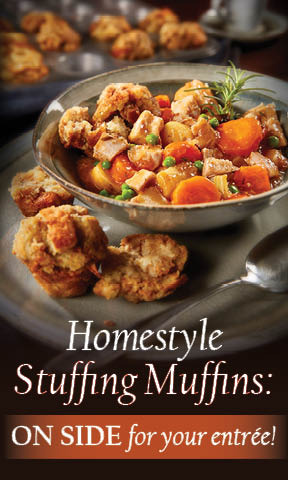 Our Stuffing is great baked with any gravy in a warm and savoury muffin side dish. Perfect to compliment a hearty chicken or turkey stew….
OR
Put it all together in a stand-alone muffin for your lunch crowd:
Ingredients:
4½ cups Papa Soly's Homestyle Stuffing (code 604)
2 cups ½" All White Cooked Diced Turkey (code 21301)
1 cup Vanee Roasted Turkey Gravy (code 50520)
Directions:
1. Preheat oven to 375 degrees F.
2. Mix together all ingredients, and fill muffin cups.
3. Bake for approximately 30 minutes.
Serves 12.