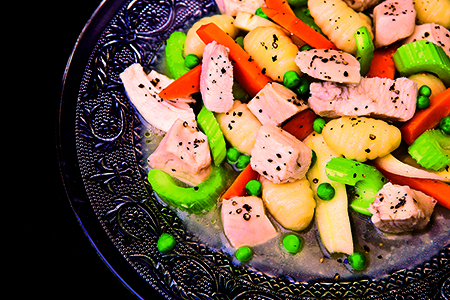 Ingredients:
4 cups All White ¾" Cooked Diced Chicken (code 34000)
2 cups Sodium-reduced Chicken Broth
2 tbsp butter
1 small onion, diced
2 segments celery, chopped
1 large carrot, peeled, chopped
1 large parsnip, peeled, chopped
2 cloves garlic, minced
2 tbsp flour
½ tsp thyme
1 pkg prepared Gnocchi pasta
½ cup frozen peas
Instructions:
1. Thaw Cooked Diced Chicken. Meanwhile, in large saucepan, melt butter over medium heat, cook onion and celery until softened, about 3 minutes.
2. Stir in carrot and parsnip, cook until carrot is slightly softened, about 3 minutes.
3. Stir in garlic, flour and thyme, cook, stirring constantly, for 2 minutes.
4. Gradually stir in broth; bring to a boil. Reduce heat to medium; summer approximately 8-10 minutes.
5. Stir in Gnocchi, peas and chicken and cook until gnocchi are tender, approximately 3 – 5 minutes.