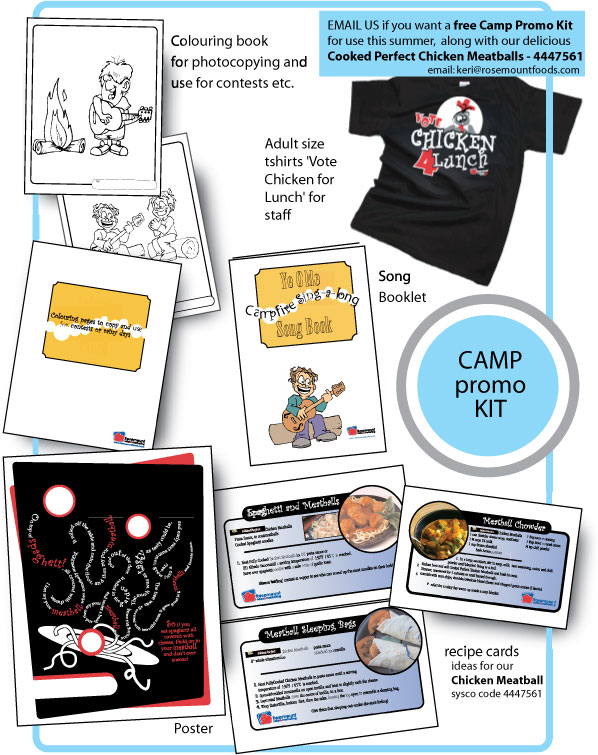 ON TOP OF SPAGHETTI
Ready for a hearty bowl full of Chicken Meatballs and Spaghetti? We all loved the song growing up – the adventures of a Lone Meatball…  We've brought it back to the dinner table with a delicious (and healthier) meatball! Email us for posters, colouring contest material and recipes to use with our Cooked Perfect Chicken Meatballs, and round out this theme for your camp!
DAILY SPECIALS!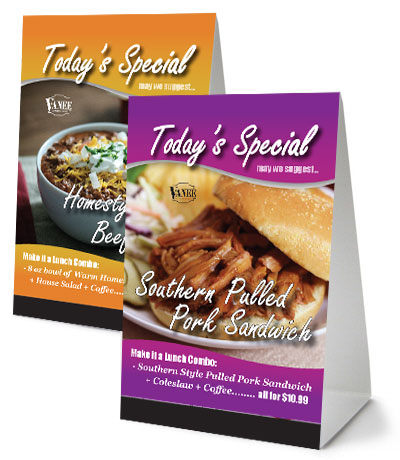 Try our recipe page for ideas for Menu Specials featuring our versatile products. Turkey Tuesday? Cowboy Pulled Pork on Wild West Wednesday? We are committed to supporting the independent restaurant operator with quality ingredients that allow you to offer good prices for full hearty meal for your guests! Call 888-434-8034 or email us for ideas and codes.
Need some CUSTOM table-toppers to advertise? You got it!
Chicken Sammy meets BOB!
Our Mascot 'Chicken Sammy' is a favourite on the Rock and Roll scene. He thinks he is, anyways! 🙂 We are proud to support you in promoting Heart-healthy chicken Sandwich and Chicken Meatball entrees for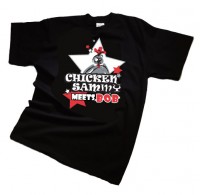 lunch! Whether you serve students or a business crowd, let's work together to provide a fun campaign with prizing incentives for healthy lunch choices. Reach out for more info and ideas!
Vote CHICKEN 4 LUNCH!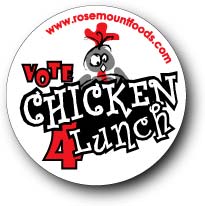 Chicken has always been a ready supporter of the campaign for heart-healthy fare. Try a 'class prez' style promo in your school – serve our Cooked Diced Chicken in your wraps, salads, soups and sandwiches, and add our Chicken Meatball, (no trans fats and a great taste that kids already vote for)! email for more ideas and inspiration on this POPULAR endeavor!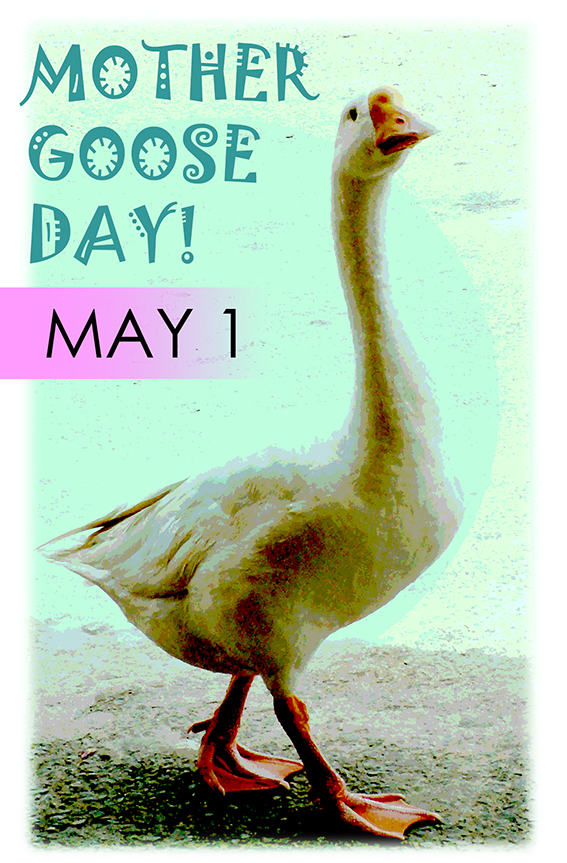 Spice Up Your May 1st
Throw in an extra holiday for a break from the everyday! It's National Mother Goose Day! Serve Chicken a la King Cole, or celebrate along with Yankee Doodle Dandee and serve a Chicken Meatball Macaroni. Have your diners finish the rhymes or turn the tables and have children read some nursery rhyme favourites to the grandparents! Your staff not too 'chicken' to dress up?? Have the Queen of Hearts serve strawberry tarts at tea time, or The Muffin Man deliver muffins with coffee in the morning! Give us a call for more ideas on this fun promo.
Around the World in … Cooked Diced Chicken