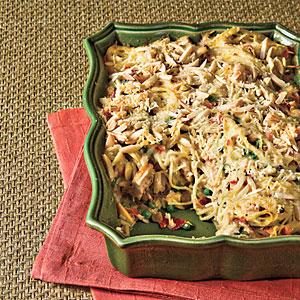 Ingredients:
1 16 oz packaged uncooked spaghetti, prepared ahead and set aside
½ c butter
½ all purpose flour
3 cups Vanee Chicken Broth – code 20509
2 cups milk
1 ¾ c Parmesan cheese
4 cups Cooked Diced All White Turkey – code 21301
2 tbsp lemon juice
Salt and pepper to taste
1/3 c. breadcrumbs
4 cups sliced mushrooms
1 cup peas, frozen
¼ cup dry sherry

Directions:
1. Preheat oven 375°F.
2. In medium saucepan cook mushrooms in 3 tbsp of butter of medium heat, stirring. Cook until mushrooms are tender and all liquid has evaporated, approximately 5 to 10 minutes. Set aside.
3. In a large, heavy saucepan melt ¼ c. butter. Whisk in flour and cook over low heat, stirring constantly for 3 minutes. Slowly whisk in milk, until creamy. Add broth and sherry, and bring to a simmer. Cook over low heat, stirring constantly for approximately 5 minutes.
4. Add peas, mushrooms, and turkey then cook for an additional 5 minutes.
5. In large bowl combine pasta and sauce. Stir in 1 ½ cup Parmesan cheese and lemon juice. Season to taste with salt and pepper. Transfer mixture to a greased 3-quart casserole dish. Top with remaining Parmesan cheese and bread crumbs, and dot with the remaining butter.
6. Bake in middle rack of oven for 30-40 minutes, or until bubbling. The top should be crispy and golden.
Courtesy www.turkeyrecipes.org / author Catherine Herzog