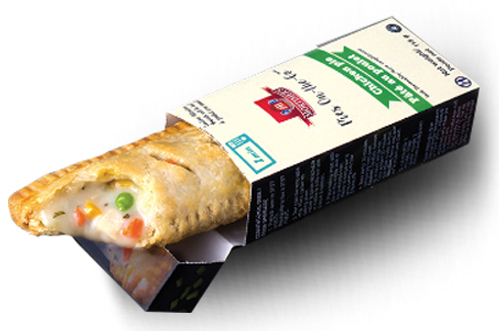 Pies On-the-Go!! Hearty and homestyle chicken pies are now available – hand-held and portable for your busy family! Try our Butter Chicken and Chicken Pie flavours for your quick suppers on the way to Soccer, or packed in your kids' lunch for an easy and hearty meal! Fully cooked and easily microwaved (from frozen) in only 1 minute!
Hearty and fully prepared: Want something easy to serve for supper? Our Hearty Meat Lasagna is a classic favourite! or Our Papa Soly's Fully Prepared Homestyle Stuffing is all prepared and ready to go – not just for the holidays – serve instead of fries or mashed! Reduced Sodium, no Trans Fats or MSG, and no extra mixing required – just heat and serve!
Custom, Clean ingredients: Innovation and custom to your needs, let us know and we can work with you to get you exactly what you need! Like our Fully Cooked Beef Crumble, or Beef Steak Chunks.Give us a call! There's always something NEW!

| Product Code | Description | Case Pack | Cases/Skid |
| --- | --- | --- | --- |
| 81193 | Pies On-the-Go Fully Cooked Chicken Pie | 4 x 12 x 115 g pies Master Case | 42 |
| 81223 | Pies On-the-Go Fully Cooked Butter Chicken Pie | 4 x 12 x 115 g pies Master Case | 42 |
| Product Code | Description | Case Pack | Cases/Skid |
| 3596 | Fully Cooked Beef Crumble | 13.6 kg bulk packed | 56 |
| 2246 | Fully Cooked Beef Steak Chunks | 13.6 kg bulk packed | 56 |
| Product Code | Description | Case pack | Cases/Skid |
| 604 | Fully Prepared Homestyle Stuffing | 3 x 4 lb trays, frozen | 96 |
| 602 | Fully Prepared Meat Lasagna | 4 x 5 lb trays, frozen | 48 |