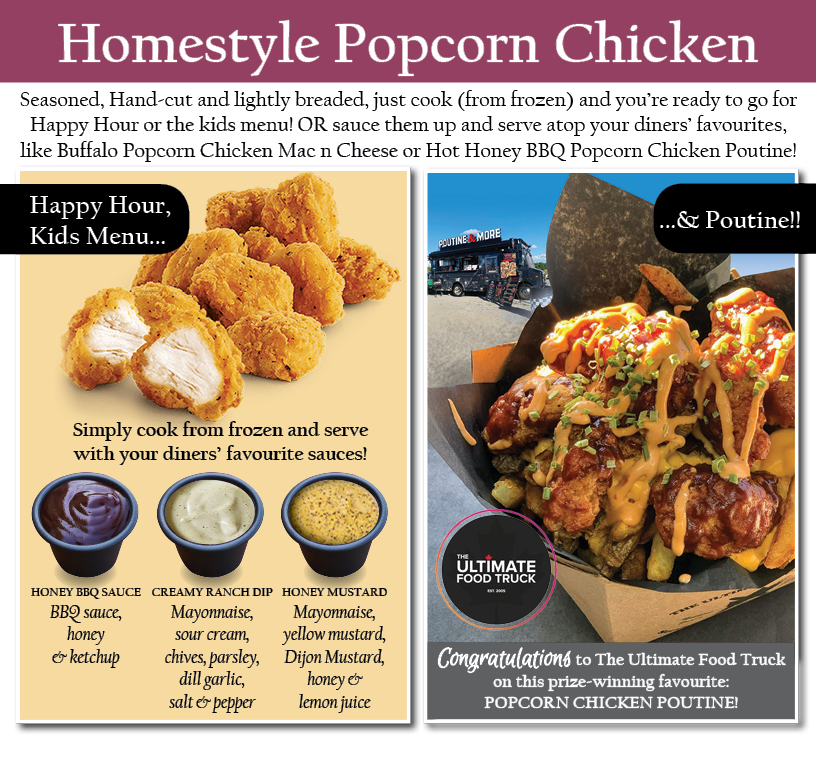 MADE IN CANADA! We are pleased to present these Seasoned Chicken products to our discerning customers!
Give us a ring and ask about our Homestyle Popcorn Chicken! It's whole-muscle chicken breast pieces coated in a lightly seasoned breading and par-fried. Just what you were looking for!
ALSO new and exciting for us are our Dusted Chicken Wings! They come to you uncooked, seasoned and in random sizes, lightly dusted with flour & par-fried in canola oil.
You remember our Fully Cooked Chicken Breasts? 3 oz portions, reduced sodium, and ready to go! New box and codes, let us know if you want more info!
| Product Code | Description | Case Pack | Cases/Skid |
| --- | --- | --- | --- |
| 18502 | 3 oz Boneless Seasoned Chicken Breast Fully Cooked | 4 kg | 90 |
| 11003 | Breaded Popcorn Chicken, par-fried | 4 kg | 120 |
| 33334 | Dusted Chicken Wings, par-fried, seasoned | 4 kg | 120 |